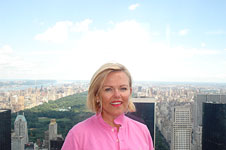 Gerrie Willemsen has 25 years of experience in communication and marketing for the international tourism industry. Her agency is specialized to create attention for tourism related products and destinations among the Dutch media, consumer and travel industry. The agency also handles PR in Belgium and Luxembourg.
The media network is cherished and constantly engaged. Gerrie Willemsen understands the goals of her existing clients and takes the time to research and familiarise herself with the target audiences of new clients. Her working method is based on experience, speciality, creativity and a personal approach. This results in immensely satisfied clients, some of which are cooperating with the agency since the company was formed.
No endless reporting, no long strategic documents, but quick reactions to developments, arranging and organising herself.
Willemsen PR is a small, professional, reliable agency; effective and efficient in their public relations. Just ask their clients!